Dec 1, 2019
The first 40 minutes of "Ariel" make this seem like the most generically, palatable episode of Firefly. It's a fun but simple heist episode. Then comes the twist. The ending gives us a deeper look at what motivates and drives the characters of Malcolm Reynolds and Jayne. We talk about keelhauling a crew member and a touching way of asking for forgiveness after betraying the crew.
SHOW TIMES
1:30 - Marc's Upcoming Shows
3:00 - Mikey's Upcoming Shows
3:50 - Marc and Mikey News
Listen to an episode of Firefly Drinking Songs from 2010.
8:56 - Review Songs from the Last Episode
12:46 - Five-Minute Show Summary
42:22 - This Week's Songs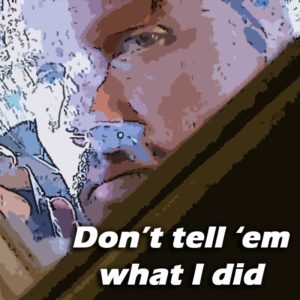 SHOW NOTES
MARC: My name is Marc Gunn, the creator of the Firefly Drinking Songs show.
MIKEY: And I'm Mikey Mason, creator of the Beer Powered Time Machine Podcast and currently the MIKEYtalks podcast.
MARC: This is part NINE of our 14 part series. We are rewatching episodes of Firefly. Our goal is to find themes and stories that we can write songs about.
Mikey: The first six episodes were funded by Marc's fans in his Gunn Runners Club. He hit a milestone which made this show happen.
MARC: There are still five more episodes of Firefly, and these next five episodes were funded by Mikey's fans helping him hit a Patreon milestone as well. But you can still help us in this creative endeavor by supporting him at http://patreon.com/mikeymason/
MIKEY: And by supporting Marc at http://patreon.com/marcgunnmusic
UPCOMING SHOWS FOR MARC GUNN
DEC 14: Tucker Brewing Company, Tucker, GA
JAN 10-12: GaFilk, Atlanta, GA
JAN 24: Interstellar Ginger Beer and Exploration Co, Birmingham, AL
JAN 25: Maggie McGuinness Pub, Huntsville, AL, US
MAR 20-22: Cleveland ConCoction 2020, Aurora, OH, US
MAY 14-17: California Autoharp Gathering, Dunlap, CA
SEP 30-Oct 4: ALEP 5, Shakerstown, KY
WEDS: Coffee with The Celtfather at 10:30 am EST on Facebook, Twitter, and YouTube. Ends Dec 11, 2019
UPCOMING SHOWS FOR MIKEY MASON
December 6 - Hillsdale, MI
December 13 - Guardian Brewing Co.
Jan 17-18 - Marscon in Williamsburg, VA
And, online shows every month (don't have dates currently nailed down for December or January yet, so… Check my schedule at mikeymason.com
GEEK MUSIC NEWS
Stories from the Road
Celtic Invasion of Italy
Marc's New CD - Selcouth
New Single "Genetic Counseling Song"
Celtic Christmas Podcast
REVIEW SONGS FROM THE LAST EPISODE
Marc: "Breathing"
Mikey: "Last Gasp"
FIVE MINUTE SHOW SUMMARY
Episode 9: Ariel - Written by Jose Molina
Plot synopsis:
Marc - The Serenity is headed for Ariel, a core planet of the Alliance, because Inara is due for her annual Companion physical exam and license renewal. Following an incident in which River attacks him, Jayne demands that she and Simon be left on Ariel. Mal quashes any talk of leaving people behind, but privately warns Simon that River has to be kept under control. Simon acknowledges that his sister is getting worse.
Mikey - Simon approaches the crew with a job: he wants to get into the hospital in Ariel's capital city in order to scan River's brain with an advanced piece of medical equipment, and he needs the crew to get him inside. As payment, he will tell the crew how to steal valuable medical supplies undetected (they will be replaced automatically by hospital machines).
Marc - Simon drugs himself and River so they appear dead, allowing the crew to enter Ariel city's hospital using a scrapped medical shuttle they refurbish and fake EMT IDs. The group then split up, with Jayne guarding Simon as he analyses River's condition while Mal and Zoe steal drugs from the hospital. However, Jayne betrays the Tams, placing a call to an Alliance officer who agrees to pay their bounty.
Mikey - Once awakened, Simon dresses as a doctor and takes River to the diagnostic ward with Jayne. There, Simon discovers that River's brain has been surgically operated on many times, disabling her ability to suppress emotions. With the analysis complete, Jayne leads them to a rear entrance, where they are arrested by Federal marshals, Jayne included, the Alliance officer deciding to keep the reward money for himself. Meanwhile, Mal and Zoe return to the medical shuttle with the loot, but realize that Jayne and the Tams are late so head back into the hospital to find them.
Marc - The three prisoners are moved to a holding area where Jayne and Simon overpower their escorts and escape. Shortly afterwards, two blue-gloved men arrive to take custody of the Tams, using a mysterious sonic device to kill all the marshals when the pair learn that some of them talked to the Tams. Meanwhile, a terrified River leads Jayne and Simon to a locked door, which is opened from the other side by Mal and Zoe, enabling the group to escape.
Mikey - Inara returns to Serenity just as the medical shuttle arrives. Once everyone else has left the cargo area, Mal knocks Jayne out. Jayne awakens to find himself in an open airlock as the ship begins to leave the atmosphere. Jayne eventually confesses that he betrayed Simon and River, but denies double crossing Mal. Mal tells him that what he did was the same as betraying him. As Mal turns to leave, Jayne asks him not to tell his shipmates about the betrayal. Mal closes the outer door, sparing Jayne's life.
NEW SONGS
Keel Haul, Y'all
Don't Tell 'Em What I Did
Marc: I am ever so grateful for the kindness and generosity of Gunn Runners over on Patreon. Thanks to my Glorious Patrons: Carol Baril, Les Howard, Cary Whitney, Angela Hughes, Lilith Marek, Troy Rodgers, William McKissack, James Regan, Alexis, Marie Alm
Mikey: The generosity of my Patreon supporters is amazing, and helps keep the music being made. Thank you to all of you, especially Robin Abess, Brian Jackey, Les Howard, Jeremy Jackson and Jennifer Lewis, and James Doster. And also to all my new patrons in the past few months that joined us and help keep the podcasts, music, and other projects coming: Christine G, Keith B, Ed, Jason Y, Gregory Mayer, Tony C, Tim S, Lar D, Thomas C, Kdawg, Jim W, Winterknight, Ira P, and Theresa B! Thank you for joining the family.
LISTENER FEEDBACK
CLOSING NOTES
Marc: Thanks so much for listening. You can download these demo songs when you sign up on our Patreon pages. Find out more about Marc Gunn and Mikey Mason and how to support our music on Patreon.
Mikey: We would love your comments, songs and lyrics or links to videos to share in the next show. Use the hashtag #InTheVerse. You can post them on the Blue Sun Tour Facebook page or email intheverse@fireflydrinkingsongs.com
Marc: In the 'Verse was produced by Marc Gunn and Mikey Mason. Sign up on our website and find out more about the Blue Sun Tour at http://fireflydrinkingsongs.com/intheverse/